Clarence Township, Calhoun County, Michigan - Email Address: Clarencetownship@yahoo.com
Office Hours: 9-12 AM and 1-4PM Monday - Friday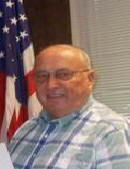 Pictured is Clarence Township Supervisor Robert Fisher.
Regular Township Meetings are held the second Monday of each month, at 7:00 PM at the Township Hall. Please Click on the News page for the minutes of the most recent Township Board Meetings.
---
CLARENCE TOWNSHIP SPRING CLEAN UP - TOWNSHIP RESIDENTS ONLY Saturday: June 13, 2020 9:00 A.M. to 3:00 P.M.
We will be practicing social distancing at this time. This is a first come, first service. If you come and the dumpster is full you will be turned away. Dumpster will be placed at the Clarence Township Hall For Use by Township residents only.
Materials that WILL NOT be acceptable for disposal are as follows:
1. Liquid Waste (paint, oil, Chemicals, Etc.) 2. Hazardous waste (Batteries, Etc) 3. Freon containing appliances (refrigerators, air conditioners, freezers, etc. 4. Yard Waste (grass, leaves, brush, stumps, etc.) 5. Household garbage.
---
ATTENTION - NEW Springport Public Schools FREE FOOD FOR KIDS
Springport Public Schools will provide packaged meals for anyone age 18 and under while schools are closed. Individuals will be able to pick up meals in at the following (5) locations. Children do not need to be present. Parents can pick up the meals for all children in their household. Meals may not be eaten on site; individuals are asked to pick up the meals to take home.

Here are the drop-off sites: City of Albion (2) stops Ė 1. Parking lot across from fire barn on Clinton St. (downtown Albion) and 2. Grace Freewill Baptist Church, 16680 E. Michigan Avenue, Albion. Clarence Township Hall, 27052 R. Drive North, Albion N. Parma Church, 11970 Devereaux Rd. Parma Pope United Methodist Church, 10025 N Parma Rd. Springport

Buses on Site: 11:45 until 12:30 PM Bus Routes Ė beginning Wednesday March 18th Mondays Ė Dropping off (2) Breakfasts and (2) Lunches Wednesday: Ė Dropping off (2) Breakfasts and (2) Lunches Fridays: Ė Dropping off (3) Breakfasts and (3) Lunches
---
Itís time to get REAL - A message from Secretary of State Jocelyn Benson. Beginning Oct. 1, 2020, residents will need to present a REAL ID-compliant document to fly in the U.S. and enter certain federal facilities under federal law. Learn more about obtaining a REAL ID-compliant driverís license or state ID at Michigan.gov/REALID. Schedule an appointment to get your REAL ID at any Secretary of State office and get in and out in less than 30 minutes. Michigan.gov/SOSAppointments
Your Michigan driverís license or identification card may not get you through airport security later this year. Oct. 1 is when the federal government will fully enforce the post-9/11 REAL ID Act, and standard state-issued driverís licenses and identification cards will no longer be accepted to board domestic flights within the United States, or when entering certain federal facilities, such as military bases or nuclear power plants.

Many people already have a REAL ID document, such as a valid U.S. passport, a DHS Trusted Traveler Card or an Enhanced Driverís License. A full list of acceptable REAL ID documents is available at TSA.gov. Those who donít can make their Michigan license or identification REAL ID-compliant by visiting a Secretary of State branch office and presenting the required documents. And, if you make an appointment, youíll be in and out in 30 minutes or less.

Hereís what you need to do to get a REAL ID:
ē To schedule an appointment at one of our branch offices visit Michigan.gov/SOSAppointments or calling 888-SOS-MICH. You can make your appointment at any branch in the state, and you donít need to have a renewal mailer to do so. Some branches fill up fast, so book your appointment a few weeks in advance of when plan to travel. Your REAL ID license or state ID card will be mailed to you. ē Bring your driverís license or state identification card. ē Bring your certified birth certificate, with a raised seal or stamp issued by a governmental agency; your valid, unexpired U.S. passport; or an approved citizenship or legal presence document. (Faxes and photocopies wonít be accepted.) ē If your name differs from what is on your birth certificate, bring certified documents for every time your name has changed, such as marriage licenses or court orders.

Thereís no additional fee to turn a license or state ID card into a standard REAL ID if itís done during your normal renewal time; otherwise a duplicate card fee of $9 or $10 will be charged. For more information, visit Michigan.gov/RealID.
---
Senior Citizen Lunches!
Senior Citizen Lunches! Please join us for lunch every Monday, Tuesday and Wednesday. Blood pressure and chair exercises are done every Monday now. If you are 60 or over, the suggested donation is $1.50 Please call the Township Hall and let them know you will attend (We need one days notice.) People usually gather about 11 AM and lunch is served at 11:45.
---
Changes in Cemetary Rules
We have some changes in the rules for our cemeteries. The changes are: Non-residents are now $400.00. Foundations prices is now $.50 per square inch and all checks will be made out to Matt Double and sent to the Township. For complete details go to the Township Services page and click on the link to Cemetary Regulations.
---
X-OUT POTHOLES
X-OUT POTHOLES - CLARENCE TOWNSHIP NEEDS YOUR HELP!! Together we can DECLARE WAR on the pot holes in Clarence Township!! HOW YOU CAN HELP: SEE SOMETHING - (A POT HOLE) - SAY SOMETHING!!
CALL 1-269-781-9841 (Calhoun County Road Department) TO REPORT THE POT HOLE.
CALL 857-2288 (TOWNSHIP OFFICE) TO REPORT THE SAME POT HOLE. YOU CAN MAKE A DIFFERENCE WITH JUST TWO PHONE CALLS!!!!
Clarence Township
Bob Fisher, Supervisor
---
Clarence Township/Duck Lake Sewer Information
The consulting firm DLZ, (architecture, engineering, planning, surveying, and construction services) generated a report to Clarence Township on the condition of the sewer system. September 11, 2018 is the date of the report.

Based on the report, the Township Board will be making some difficult decisions in the near future. The purpose of this article is to give sewer users advance notice and information.

The Duck Lake sewer system is 41 years old, being built in 1977. The consulting report stated that although the system is well maintained, the age of the system requires improvements. Listed necessary improvements to the system as follows:

Improvements To Lagoon Aerators: $201,000

Lift Stations:
Either Replacement $2,281,300, or Refurbishment $543,100

The current thought is to choose refurbishment of the Lift Stations rather than Replacement. Financing will be from a low interest loan from the Farmers Home Administration amounting to $744,000 (or slightly higher if prices increase).

For further information please contact Township Supervisor Bob Fisher at Clarence Township.
---
Dog Licenses
Dog licenses are no longer issued through Clarence Township. Dog licenses can be obtained from Veterinarians or at the Calhoun County Treasurer. See the Calhoun county Web Site for information about obtaining the license at Calhoun County.
---
Clarence Township/Calhoun County Recycling Information - Recycling Container
It is easy to recycle newspapers, glass, magazines, cardboard, tin, and plastic every third Saturday of the month at the Township Hall parking lot. Please do not put items on the ground if the bin is full.

Residents are urgently asked to crush cardboard boxes before throwing them in the bin. Additionally, please do not leave or place any items outside the container when the container is full. Items left outside may cause extra charges and/or loss of the recycling container.

Calhoun County also offers recycling services. On this web site, click on: Links to Other Sites page for several links to complete Calhoun County Recycling information.
---
Recycle for Free at C and C Landfill - New Recycling Opion - Please Note - just click on this link to see a new flyer on recycling: Townshiplandfillrecycling2
---
Open Burning Ordinance
The Clarence Township Board enacted an Open Burning Ordinance at their meeting July 13, 2015. Please go to the:Township Services; page to see a link to the Ordinance
---
Residential Property Check
The Calhoun County Sheriff's Department will check on your property while you are away on vacation, etc. Please click on the following link to see the form that you fill out and email or fax to the Sheriff's Department. Residental Property Check Form
---
Winter Property Taxes and Drain Assessments
Questions about Drain Assessments should be directed to the Calhoun County Water Resources Commissioner at 269-781-0790. Clarence Township has nothing to do with drains except to place them on the tax bills.
---
Cemetery Rules and Regulations
Go to the Township Services page for Clarence Township Cemetery Rules and Regulations.
---
Library Services Refund
Library Services Refund- Are You Aware? Residents of Clarence Township can receive a $20 refund upon presentation of a receipt of payment to join an adjoining Library. Just take your receipt to the Clarence Township Office. Limit one per year.
---
Freedom of Information Act (FOIA) Informaion
It is the public policy of the State of Michigan that all persons (except those persons incarcerated in state or local correctional facilities) are entitled to full and complete information regarding the affairs of government and the official acts of those who represent them as public officials and public employees. Please click on this link Township Services for more information about the Freedom of Information Act and to to get an appliation form.
---
Rental of the Township Hall
Residents of Clarence Township may rent the Township Hall based on availability. The cost is $150 of which $50 is refundable (damage deposit).