Clarence Township, Calhoun County, Michigan - Email Address: Clarencetownship@yahoo.com
Office Hours: 9-12 AM and 1-4PM Monday - Friday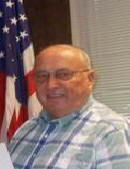 Pictured is Clarence Township Supervisor Robert Fisher.
Regular Township Meetings are held the second Monday of each month, at 7:00 PM at the Township Hall. Please Click on the News page for the minutes of the most recent Township Board Meetings.

---
Public Hearing
Clarence Township Board will hold a public hearing on June 11, 2018 at 7:00 p.m. to hear all comments on Resolution 06-18 to levy renewal of ½ mil for Township roads, construction and improvement purposes for 6 years 2018 - 2023. The .5 mils will raise an estimated $36,700 in the first year.
The public hearing will be held at the Clarence Township Hall at 27052 R Drive North in Clarence Township. A copy of the proposed Resolution can be viewed at the Clarence Township Hall during the hours of 9:00 a.m. to 12:00 p.m. (noon) and 1:00 p.m. to 4:00 p.m., Monday through Fridays. Written comments should be received by 12:00 p.m. (noon), June 11, 2018 and addressed to the Clarence Township Board.
CLARENCE TOWNSHIP 27052 R Drive North Albion Michigan 49224 Phone: 517-857-2288 Fax: 517-875-2488 T.D.D. 711
Sheryl A Proteau, Clerk Clarence Township
---
Recycling Container
Residents are urgently asked to crush cardboard boxes before throwing them in the bin. Additionally, please do not leave or place any items outside the container when the container is full. Items left outside may cause extra charges and/or loss of the recycling container.
---
Recycling Flyer - Please Note - just click on this link to see a new flyer on recycling: Recycling Newsletter Republic Services
---
This American Flag is Constructed Entirely With Old Fire Hoses and Hangs in the Firebarn in Springport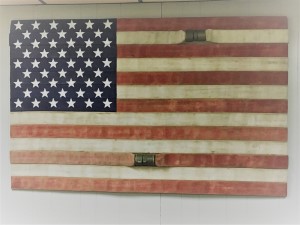 ---
Sewer Rate Increase
December 30, 2016
Re: DUCK LAKE SEWER SYSTEM USERS

At the December 12, 2016 meeting, the Township Board voted to raise the monthly sewer bill to $40.00 due to increase in insurance, water testing and operation cost. At the same meeting the Township Board has decided that all payments paid in full, twelve months in advance will be discounted $1.00 per month or $12.00 per year, which is a payment of $468.00 if PAID BY JANUARY 25, 2017 After this date no discount will be accepted.

All property owners are responsible for the payments of the user's fee, and any fees not paid will be placed on the current year tax roll.

Sewer bills may be sent to renters, or owners of the property.

PLEASE MAKE SEWER CHECK SEPARATE FROM THE TAX CHECK. Please make checks to Clarence Township Sewer Department.

Please return small stub off of the Sewer bill with payment. Sheryl A Proteau Clarence Township Clerk
---
Clarence Township/Calhoun County Recycling Information.
It is easy to recycle newspapers, glass, magazines, cardboard, tin, and plastic every third Saturday of the month at the Township Hall parking lot. Please do not put items on the ground if the bin is full.

Calhoun County also offers recycling services. On this web site, click on: Links to Other Sites page for several links to complete Calhoun County Recycling information.
---
Pothole Reporting
Email is another way to report potholes to Supervisor Bob Fisher at Clarence Township. Just send an email to: clarencetownship@yahoo.com
---
Open Burning Ordinance
The Clarence Township Board enacted an Open Burning Ordinance at their meeting July 13, 2015. Please go to the:Township Services; page to see a link to the Ordinance
---
Senior Citizen Lunches!
Senior Citizen Lunches! Please join us for lunch every Monday, Tuesday and Wednesday. Blood pressure and chair exercises are done every Monday now. If you are 60 or over, the suggested donation is $1.50 Please call the Township Hall and let them know you will attend (We need one days notice.) People usually gather about 11 AM and lunch is served at 11:45.
---
Residential Property Check
The Calhoun County Sheriff's Department will check on your property while you are away on vacation, etc. Please click on the following link to see the form that you fill out and email or fax to the Sheriff's Department. Residental Property Check Form
---
Winter Property Taxes and Drain Assessments
Questions about Drain Assessments should be directed to the Calhoun County Water Resources Commissioner at 269-781-0790. Clarence Township has nothing to do with drains except to place them on the tax bills.
---
Cemetery Rules and Regulations
Go to the Township Services page for Clarence Township Cemetery Rules and Regulations.
---
Library Services Refund
Library Services Refund- Are You Aware? Residents of Clarence Township can receive a $20 refund upon presentation of a receipt of payment to join an adjoining Library. Just take your receipt to the Clarence Township Office. Limit one per year.
---
Freedom of Information Act (FOIA) Informaion
It is the public policy of the State of Michigan that all persons (except those persons incarcerated in state or local correctional facilities) are entitled to full and complete information regarding the affairs of government and the official acts of those who represent them as public officials and public employees. Please click on this link Township Services for more information about the Freedom of Information Act and to to get an appliation form.
---
Dog Licenses
Go to Township Services for notes from Sue Ott, Clarence Township Treasurer, concerning Dog Licenses (can be purchased at the Township Hall starting December 1st) and more.
---
Rental of the Township Hall
Residents of Clarence Township may rent the Township Hall based on availability. The cost is $150 of which $50 is refundable (damage deposit).